Want to scale your dental practice with less stress? 
Here's the secret – it requires a solid, well trained team of leaders working towards a shared set of goals.  
We build ROCKSTAR teams – who build ROCKSTAR dental practices! 

Bring the training back to your team and get them fired up too! Enter your info to grab your SMARTER Goals Worksheet – and then let's get you inside the Front Office Rocks Community.
+300 Videos
Of content for your entire team
+180 Documents
to aid your team and shortcut admin work
+8 Courses
Mastery level content for specialized positions

TEAM TRAINING & COACHING
How much support do you need?
We know what it's like to operate a dental practice because we've been there. The schedule falls apart, patients are worried about what the insurance will cover, and then don't get us started on marketing… That's why we created Front Office Rocks – to be a resource for dental teams.
Looking for a DIY option and just need videos and documents to help train your team – great! Check out our Foundations Training. 
Want a bit more guidance and access to LIVE coaching? We have you covered with our Total Teams Training. 
Foundation Membership
With over 300 modules covering everything from phones to insurance this fundamental training is built for your entire Front Office Team.  These courses are designed as a DIY tool for you to train every member of your team and build a strong foundation so your employees are confident and successful in their role. Most videos are less than 10 minutes and have associated document to help your staff get out of the admin work and focus on the patients.

Total Team Training
If your team is busy enough with patient and needs a bit of help devising a training plan and mentoring your team – this is done-with-you program is your best option. With over 4 hours of group coaching provided each month, plus 3 hours of one-on-one personalized coaching, we'll help you get your team trained and aligned on your strategic goals. Plus you'll get access to al the videos and documents in our Foundation Training.
The Secret To Practice Success…
You cannot succeed if YOU are wearing all the hats and are the only person who knows how to run the business side of your practice.
A well-run efficient dental practice requires the right people working together and following a series of practice-tested efficient systems to serve your patients. Hiring and training the right people, and empowering them to be leaders in your practice is the key to success. We'll help you build a culture where employees want to stay and build careers. 
Training Includes:
Foundations Training
☑

Recare, Reactivate, & Retain

☑

Communication & Customer Service

☑

Answering Phones

☑

Positive Office Culture

☑

Doctor & Office Manager Training

☑

Presentation & Case Acceptance

☑

Insurance & Patient Financials

☑

Scheduling Basics

☑

Team's Impact on the Schedule

☑

Hiring & Employee Management

☑

Practice Management Software
Exclusive Tracks for Total Teams
☑

Dental Hygienst Patient Skills

☑

Basic Back Office Track

☑

Dental Assistant Development

☑

Hygiene Communication

☑ Teamworks Training

 
Live Coaching for Total Teams
☑

Weekly Group Coaching with Trainers

☑

Weekly insights from our coaches

☑

Onboarding Coaching call

☑ Monthly custom coaching call focused on your goals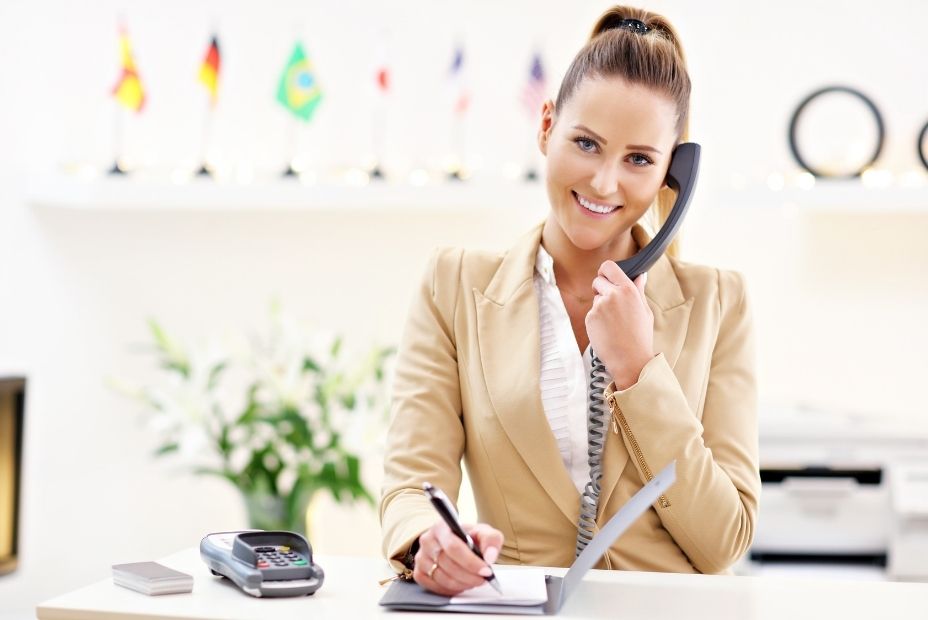 Front Office
✓ Reduce cancellations and no shows
✓The correct way to ask for reviews
✓ Improving patient communication
✓ Master confirmation calls
✓ Schedule for production goals
✓ Manage doctor and hygiene schedule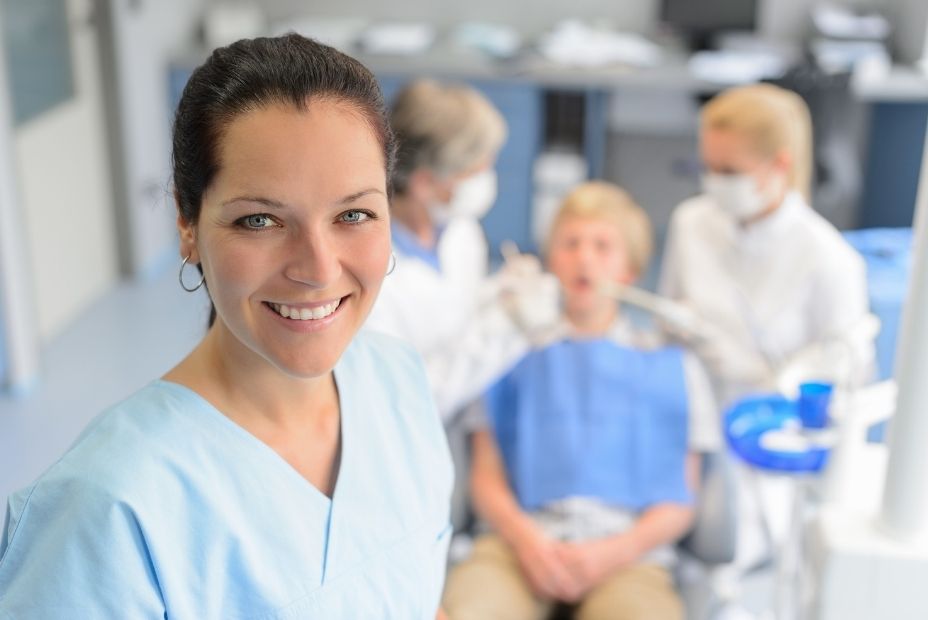 Back Office
✓ Productively filling non-patient time
✓ Becoming a leader in your practice
✓ Understand doctor expectations
✓ Explain perio clearly to patients
✓Building customer relationships
✓ Master hand-off from reception through the appointment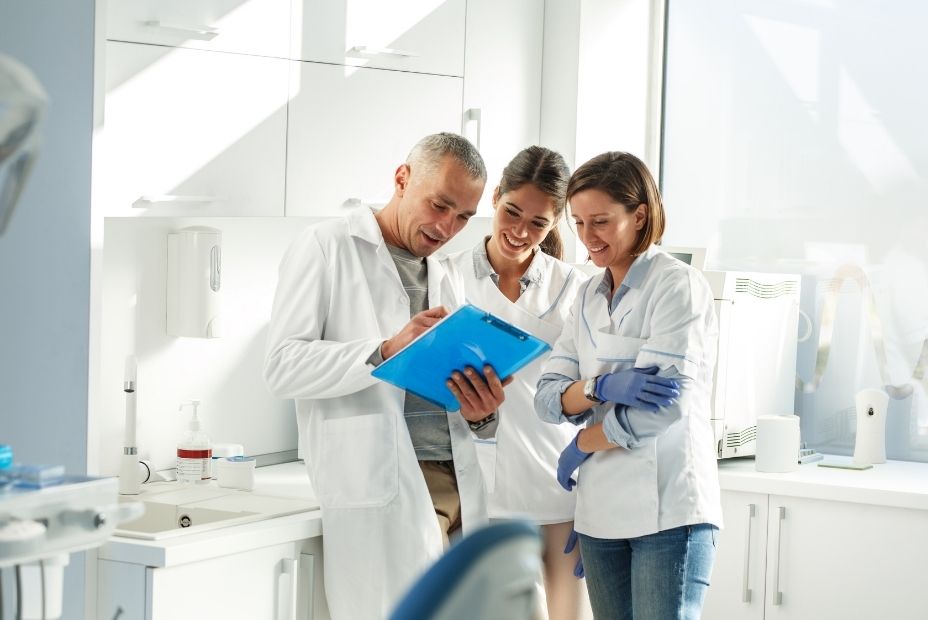 Leadership
✓ Lead a profitable business
✓ Implement training for your team
✓ Learn to build patient rapport
✓ Learn to grow a practice
✓ Create effective office processes
✓ Motivate the team for success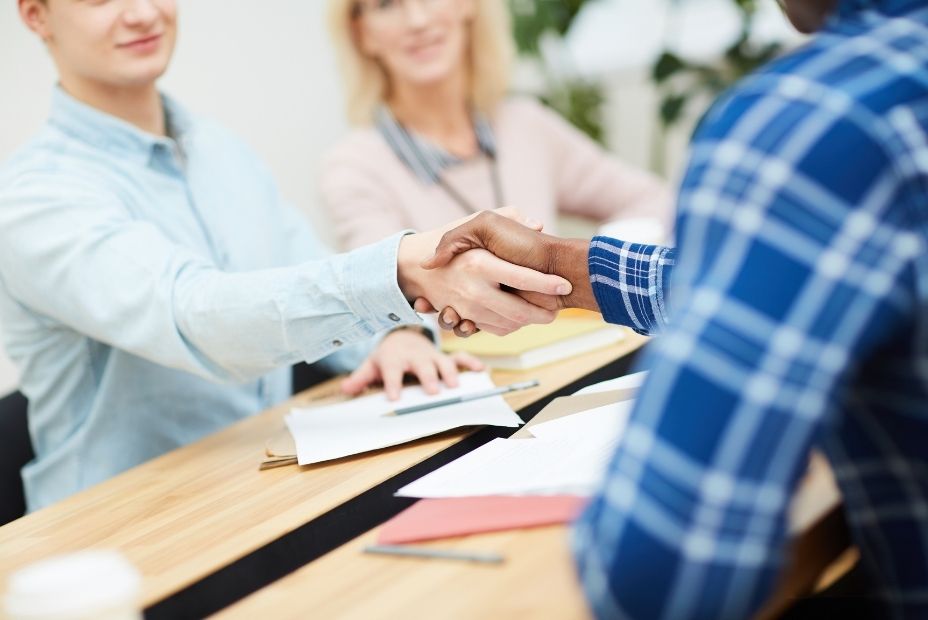 Patient Care
✓ Get patients to show up
✓ Presenting treatment estimates
✓ Speaking on insurance and payment
✓ Increases case acceptance
✓ Earn patient reviews and referrals
✓ How to handle and reduce AR
Foundation Training
What's Included: 
Document Resource Library
Checklists and Job Descriptions
300+ DIY Training Modules on Topics:
– Case Presentation & Acceptance Training
– Scheduling Basics & Mastery
– Insurance & Patient Financials
– Answering Phones
– Building Office Culture
– How to use your tools and build systems
Welcome Tour with our Implementation Coach
Dashboard and Group Management for 20 Employees
Only $249 per month for your ENTIRE team.
Total Team Training
What's Included: 
Everything inside our Foundation Training DIY Modules
PLUS: 
Exclusive Back Office Training Modules
Weekly LIVE members-only group coaching sessions
4 One-to-One Coaching calls per month
Kickstart Discovery Call with our Implementation Coach
Custom training plan
Weekly check-in emails with additional resources and guidance
Only $549 per month for your ENTIRE team.
Save $150 on your registration until 10/30/2022. No coupon necessary, price reflected during checkout.